CREATING ACTIVISTS
When discussing activism with various people, it became apparent that people's involvement can range from hot to cold. The realisation that people can transition from one level to the next, lead to the underlying premise behind the 3 things site.
The site seeks to recruit, retain and develop advocates for change amongst the youth audience via facilitating discussion and pro-activity around a range of topics.
View Site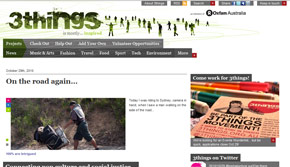 STARTING THEIR ENGINES
Users of the site are encouraged to interact with the content in 3 increasingly involved manners, with the framework Care, Help and Change. Using these tags, users are directed to the appropriate course of action, depending on the involvement level chosen. In this way, and via their own innate curiosity, users are motivated to become increasing involved agents of change.