CREATE AN ONLINE SPACE FOR KIDS
Kids are so bombarded with entertainment options that it's a real challenge to get their attention and hold onto it. With this in mind, Deepend created a site for Nickelodeon that is as dynamic and varied as kids' lives, and as safe as their parents demand.
We got their attention alright – the site received 211,000 unique kid visitors in the last 30 days alone.
View Site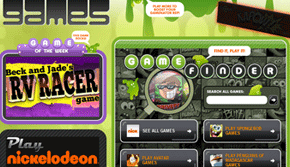 THE PLACE TO BE
With over 250 games, and constantly updated video content, seasonal theme design changes up to once a month, a massive range of competitions and various safe social spaces to connect with other kids, the Nick site has succeeded in not only attracting but retaining visitors. Average time spent on site is a whopping 10.5 minutes.